Grimes Airfield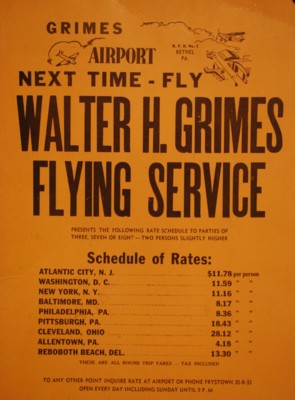 The airfield itself is part of the museum experience. Built in 1946 by a local businessman, Walter Grimes, the airfield has been in constant operation since its opening. This was Mr. Grimes' second airport, the first in the town of Womelsdorf has long since closed and is now a working farm. He built here in Bethel Township to expand his operation of flight instruction, charter, and maintenance. When it opened Grimes Airport was a show piece of small airports. Two runways three thousand feet long and three hundred feet wide spread over the one hundred and sixty acres. Aircraft from Piper Cubs to Douglas DC-3s regularly operated from the airfield. The Airfield has been in continuous operation since its completion in 1946.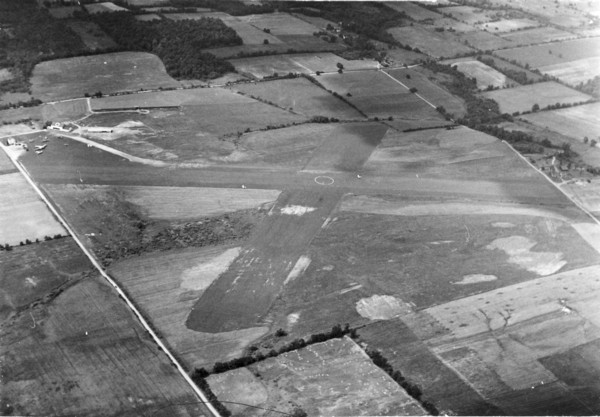 Looking to the north, Grimes Airfield in 1947
The first big change to the airfield came when the four lane highway Route 22 (now Interstate 78) was constructed, this facilitated the closing of the north-south runway and the first loss of acreage. After Walter Grimes' passing in the late 1980s, the airfield was bought and sold a few times and fell into disrepair. During this time much of the extra acreage was subdivided off. Purchased by the Dougherty family in 1996 the airfield went through a total restoration. The original office building, an 18th century farm house was completely renovated. The original hangar, a barn converted to a hanger, was beyond repair and replaced with a new hangar. Since then more hangars have been built, all with an antique motif. The single east-west runway is still in use as the main runway and the large grass ramp area has been expanded for museum use.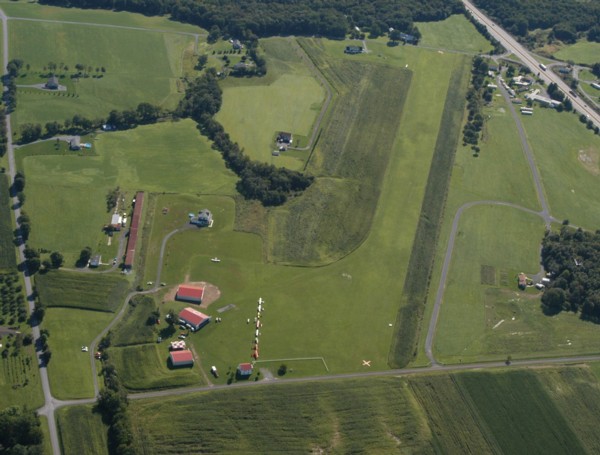 Grimes Airfield today, looking to the east down runway 11
The Airfield is open to fly in traffic. No fuel available. No prior permission needed, west end of runway is soft in the spring.
Visit AirNav.com for airport directory.

Please help support our facility , Donate today!

GOLDEN AGE AIR MUSEUM
Grimes Airfield , 371 Airport Road, Bethel, PA 19507
Telephone: (717) 933-9566
eMail: Contact Us
All materials on this Web Site (as well as the organization and layout of the Site) are owned and copyrighted by Golden Age Air Museum. © Copyright Golden Age Air Museum, 2005. All rights reserved. No reproduction, distribution, or transmission of the copyrighted materials on this Web Site is permitted without the written permission of The Golden Age Air Museum.
Send mail to Contact Us with questions or comments about this Web Site.
Last modified: May 26, 2023